CEVR is thrilled to introduce the 2023 cohort of the Tufts-CEVR CEA Registry Summer Fellowship program, which is supported by the Gordon & Betty Moore Foundation.
Over the next eight weeks, six talented students from graduate programs around the country will review hundreds of cost-effectiveness analyses (CEAs) for CEVR's CEA Registry while conducting original health policy research of their own.
To get to know the fellows better, we asked them about their research interests, career aspirations, favorite pastimes, and unique experiences. We have shared some of their responses below.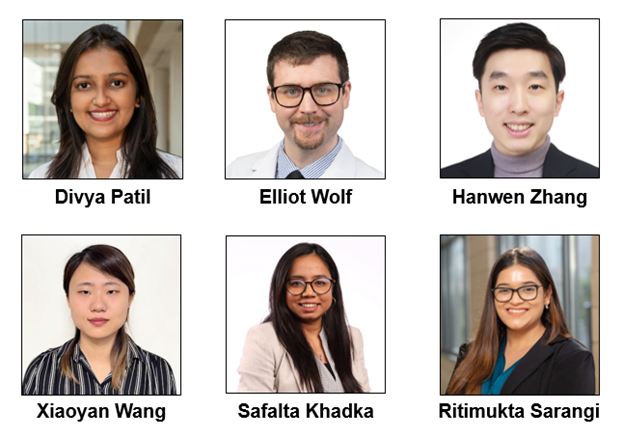 Divya Patil
Pursuing an MS in Pharmaceutical Health Services Research at University of Maryland
Research interests: Mental health, Covid-19
After completing her studies, Divya plans to pursue opportunities in the pharmaceutical industry specializing in economic modeling and evidence generation. In her free-time, she enjoys poetry, exploring new places, and trying new cuisines.


Elliot Wolf, PharmD
Recently completed a PharmD at University of Illinois at Chicago College of Pharmacy
Research interests: Cancer, infectious diseases, diabetes, Alzheimer's
Elliot is a community pharmacist who hopes to transition into health economics and/or market access research. He enjoys bike rides, visiting museums, watching movies, and reading. In the future, he wishes to travel the world and learn more about other societies, cultures, and lifestyles.


Hanwen Zhang, MS
Pursuing a PhD in Pharmaceutical Sciences - Health Outcomes at University of Texas at Austin College of Pharmacy
Research interests: Oncology, cardiovascular disease, infectious disease, vaccination policies, equity issues in cancer treatments and screenings
Hanwen recently completed an MS in biostatistics, and will continue onto a PhD program this fall. An avid traveler, Hanwen has been to more than 30 countries across 5 continents. When at home, he enjoys playing soccer, practicing calligraphy, and visiting art museums.


Xiaoyan Wang
Pursuing an MPH in Epidemiology at Columbia Mailman School of Public Health
Research interests: Mental disorder, addiction, opioid crisis, STIs
After completing an MPH, Xiaoyan hopes to continue her academic career in a PhD program. Xiaoyan is also a scuba diver working towards an open water diving certification. She enjoys writing novels and hopes to one day meet Natsuhiko Nyogosu, a Japanese mystery writer.


Safalta Khadka, MS
Pursuing a PhD in Health Service Outcomes Research at West Virginia University
Research interests: Cancer, cardiovascular diseases, substance abuse
Safalta hopes to start a career in HEOR within the pharmaceutical industry. Safalta enjoys traveling and has Paris, Mt. Everest base camp, northern lights, and bioluminescent beaches at the top of her bucket list. She also loves dancing, cooking, and making TikTok videos.
Ritimukta Sarangi
Pursuing an MPH in Sociomedical Sciences at Columbia Mailman School of Public Health
Research interests: Diabetes, cardiovascular diseases, breast cancer, Ebola, Coronavirus
Ritimukta is an aspiring health economist. With "Dolce Far Niente" as her motto (translation: the sweetness of doing nothing), she enjoys walks, reading, and learning Spanish. One day she hopes to break a bizarre world record for the fastest time to burst 3 balloons.