The Cost-Effectiveness Analysis (CEA) Registry has been updated to include analyses published through 2019, adding 986 new studies to the database. Highlights include:
2,553 new incremental cost-effectiveness ratios
3,181 new utility weights
Pharmaceutical (n=432), screening/diagnostic (n=180), and health education or behavioral interventions (n=104) account for the largest number of analyses.
New articles represent a broad range of conditions, including cancers (n=216), circulatory disorders (n=141), and infectious diseases (n=111).
Almost half of the new analyses (n=467) took a health system perspective, while only 153 applied a societal perspective.
950 of the articles focused on an individual country and 36 were multi-country evaluations.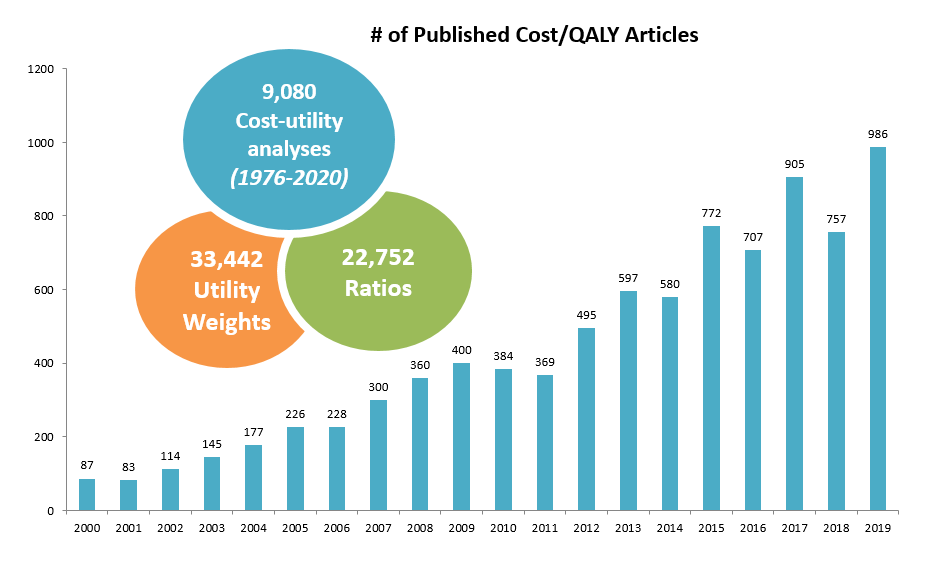 The full CEA Registry now includes:
9,080 articles of cost-effectiveness analyses published from 1976 through 2020
22,752 incremental cost-effectiveness ratios
33,442 utility weights
Data collection for CEAs published in 2020 is underway and we have expanded our literature search beyond PubMed. The 2020 article search also brought in articles identified through Scopus, Ovid, and Embase. Some of these articles have already been published to the CEA Registry, with completion anticipated in late 2021.