CEVR is thrilled to introduce the 2021 cohort of Tufts-CEVR summer fellows. Over the next eight weeks, six talented students from graduate programs around the country will review hundreds of cost-effectiveness analyses (CEAs) for CEVR's CEA Registry while conducting original health policy research of their own.
To get to know the fellows better, we asked them about their research interests, career aspirations, favorite pastimes, and unique experiences. We have shared some of their responses below.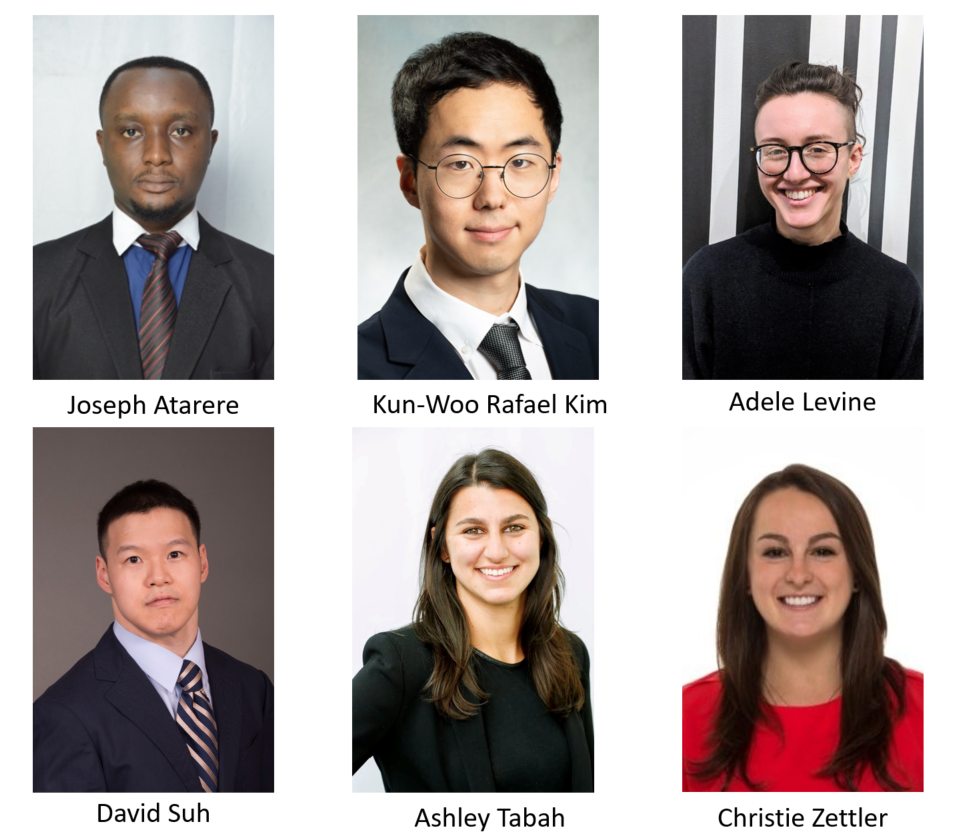 Joseph Atarere
Pursuing an MPH in Biostatistics and Epidemiology at the Harvard Chan School of Public Health
Research interests: Surgical outcomes
Joseph is a former singer/song-writer whose favorite sport is mixed martial arts. He enjoys hiking, cycling, and watching sports.
Kun-Woo Rafael Kim
Pursuing an MPH in Health Policy and Management at Columbia University Mailman School of Public Health
Research interests: Cost-effectiveness of telehealth, home delivery, and visiting nurse services for patients with Crohn's/ulcerative Colitis, cardiovascular disease, or sleep disorder (Narcolepsy)
Kun-Woo has been a Kendo (Korean/Japanese Fencing) practitioner for about 7 years. If he could share a meal with anyone, living or dead, he would choose Gaius Julius Caesar to chat about his philosophy on love, humanity, and virtues.
Adele Levine
Pursuing a PhD in Health Services Research at Boston University School of Public Health
Research interests: Alzheimer's disease and related dementias, cancer, and other elder health issues.
Adele enjoys reading sci-fi novels, going on bike rides, cooking, climbing, and attempting a backyard garden. Adele's hidden talent is that they are able to break an apple in half with their hands.
David Suh
Pursuing a PhD in Health Management and Policy at the University of Michigan
Research interests: Health economics, cost-effectiveness analysis, and related disciplines
David would like to share a meal with George Washington to get his thoughts on the current political climate and state of affairs in the US. One of David's bucket list items is to go skydiving. He also enjoys listening to music, playing and watching sports, and watching movies.
Ashley Tabah
Pursuing a PhD in Health Economics at the University of Washington CHOICE Institute
Research interests: Improving access to healthcare and patient outcomes in oncology and hematology
Ashley already speaks four languages and wants to learn Arabic. If she could share a meal with anyone, living or dead, she would share it with her grandmother and talk to her about what it was like to grow up in Lebanon and immigrate to Canada.
Christie Zettler
Pursuing an MPH in Epidemiology at Columbia University Mailman School of Public Health
Research interests: Use of real-world evidence to improve healthcare decision-making, innovative access and financing mechanisms, cancer, HIV/AIDS, COVID-19
Christie's family has lived in Sydney, Hong Kong, Seoul, Hawaii, Memphis, and LA. Christie would like to live in London someday. She loves to cook and bake, and has (almost) perfected her Great Aunt's Cinnamon Roll recipe.